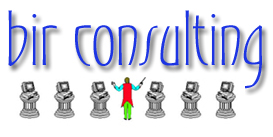 Search Engine Optimization (SEO) Packages
In order to boost your search rankings, we offer the following SEO packages:
$1,000
$2,500
$5,000
$10,000
$20,000
Here is what you get:
$1,000:


Analysis and Report on the effectiveness of your current SEO plan
SEO recommendations and implementation plan
Help implement SEO plan



$2,500:


The above, plus
Implement SEO plan
1 month support



$5,000:


The above, plus
Help you set up and manage a Google Ad campaign
Analysis and report on ad campaign
Recommendations for continued ad campaign
3 months support



$10,000:


The above, plus
6 months support



$20,000:


The above, plus
1 year support
All packages include weekly SEO reports and assistance to your webmaster to implement changes.

Terms: 30% at signing, net-30 on each month's balance.

Notes
Cost of Google ad campaign not included in above. To be effective, we recommend a budget of at least $100/day for several weeks.
Your site must be set up to track incoming referrals (log analyzer). Cost to set this up is extra.
The Google ad campaign goals are 1) to learn which keywords achieve the highest conversion (visits to sales), and 2) to boost your branding efforts.
You are responsible for setting up and maintaining the ad campaign. We will help if needed.
You are responsible for contacting sites and asking them to link back to your's. We will identify the sites and provide you with biolerplate email language.
You are responsible for creating and maintaining new pages that are optimized to specific keywords. We'll tell you how to do them, and you are responsible for having your webmaster implement them.
For an additional fee we will help with webmaster tasks and writing copy (text for new pages).
Travel costs and per diem on a case by case basis. Normally, we are able to work with clients by email and phone.
© Copyright bir consulting 2006 - 2011
Last Update 24 June 2011

"Gives me daily updates on only the news I want, greatly reducing the time I spend doing research. I now have 3 to 4 extra hours per day to concentrate on what the news
means
, and how it will effect my clients."
I highly recommend this service.
~Rocky Rawstern
Founder,
Access
---
---
---
Friends

Davis Construction Custom Home Builder - and a full service general contracting firm specializing in fine quality high-end residential and commercial construction and remodeling.